All the great players in the SAEFL
Robo The greatest player EVER !!!
And What a CAPTAIN 'Captain Marvel as he was known'
Top EMPS- Top 15 Players of the season and top 15 youth players
Master Blasters– Top 15 Goal Scorers in Div1 and Div2
Top Emps in certain fields – Top 15 Defender, Midfield and Attacking players
Top Defensive teams – Top Defensive teams in the SAEFL
Top Rates  – Top Save Rate (GK) and Top Strike Rate (Goal scorers)
SAEFL ALL TIME GREATS – Great Players that have retired from the SAEFL


<![if !supportLineBreakNewLine]>
<![endif]>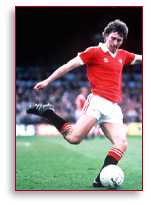 <![if !supportLineBreakNewLine]>
<![endif]>
BRYAN ROBSON
Birthplace: Chester-le-Street, 11/1/1957
Height: 180cm - 5ft 11in
Weight: 73.94kg - 11st 9lb
Full International: England (90 caps, 26 goals)
Position: Midfield
Debut: 07.10.1981
Appearances (1981-1994): 466 - 25 as sub
Goals: 98
It was a wholly fitting climax to United's 1992-3 FA Premier League championship season when Bryan Robson scored the campaign's last goal to clinch the 2-1 victory against Wimbledon at Selhurst Park. Six days earlier 'Captain Marvel' had jointly accepted, with Steve Bruce, the FA Premier League trophy as the curtain came down on an Old Trafford season which had seen the end of a 26 year
wait for the game's ultimate domestic honour. Back and hamstring problems had blighted Robson's season, but in typical fashion he had fought bravely to reclaim a place in the side. Indeed, various well documented injuries plagued so much of his remarkable career, often at most inopportune moments for both club and country. It was laughably suggested at times by the media that he should ease up, but for such a fiercely committed and courageous player it was perhaps quite simply an inevitable price that had to be paid. In his early days with West Bromwich Albion, no less than three broken legs inside a year threatened his future but with great determination he somehow made a complete recovery. He had appeared in 194(4) League matches for the Baggies, and scored 39 goals when new United boss Ron Atkinson returned to his former club and paid a joint fee of around £2 million to bring both Robson and Remi Moses to Old Trafford. The deal rated 'Robbo' at a then record £1.5 million. Some doubted Atkinson's wisdom, but Robson was destined to become one of the game's greatest midfield players. He quickly grew in stature and was soon appointed club captain instead of Ray Wilkins, a player with whom he enjoyed such a fine understanding and one who helped develop Bryan's already mature reading of the game. A supreme motivational force who led by spirit and example, Robson in his prime was a shining diamond with so many priceless facets to his game. Among his many dazzling features was an apparently endless supply of dynamic stamina, great creative passing skills in both attacking, defensive and midfield situations, controlled aggression in the tackle and when under pressure, plus the added bonuses of genuine pace and the powerful shooting and heading ability which brought an enviable career record of well over a century of League goals - many from those steaming late blind side runs into the area. But perhaps above all, he was an inspiring captain for both club and country, and uniquely, led United to a hat-trick of FA Cup wins in 1983,1985 and 1990. In the 1983 final against Brighton he scored two of United's goals in the 4-0 replay victory. He was a League Cup finalist in 1991 and collected a prized European medal when he lifted the Cup Winners' Cup in the same season. At international level he was awarded caps at Youth level and also represented England 'B and the Under-21 side on seven occasions. Within his total of 90 full caps, he represented England in three World Cups and his 26 international goals included a hat-trick against Turkey in 1984, and a strike in just 27 seconds against France in the 1982 World Cup, which was the tournament's second fastest goal. In his final two seasons Bryan Robson started only 15 Premiership matches, but usually made a telling contribution when called upon and could hardly have ended his illustrious career with the Reds on a more satisfying note than seeing the club complete the coveted League and Cup 'double'. An early recruit by England's new manager Terry Venables as coach and right-hand man, Robson was quickly snapped up on a lucrative contract by Middlesbrough when he announced his impending exit from Old Trafford.